West Papua flag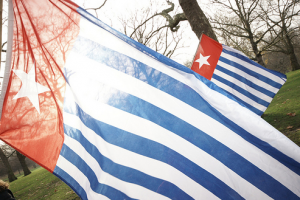 **ONLY AVAILABLE IN SMALL SIZE AT PRESENT. NEW STOCK COMING SOON**
Show your support and solidarity for the people of West Papua in their independence struggle by purchasing the Bintang Kejora flag. This is the flag of a nation of people struggling to be free, and there are dozens of Papuans serving lengthy prison terms for peacefully raising it.
Available in two sizes:
large flag – standard outdoor size 90cm x 156cm approx.
desk flag – 20cm x 30cm approx.